How It Works
Get familiar with Strateamic's approach to one-on-one meetings
1
Easy Scheduling
Setup a meeting schedule
Select who, an interval (weekly, bi-weekly, etc.), date and time, and we will send out a calendar invite and take care of the rest.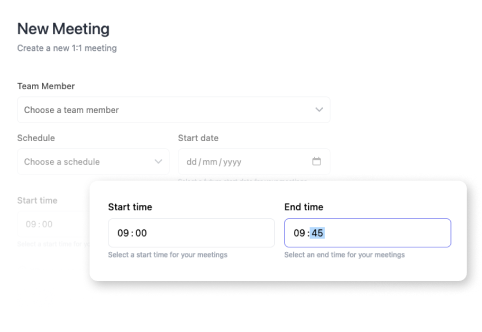 2
Meeting Agenda
Review your meeting agenda
Strateamic generates an engaging meeting agenda. This is what our customers love the most about our solution. You can add or remove questions as you see fit.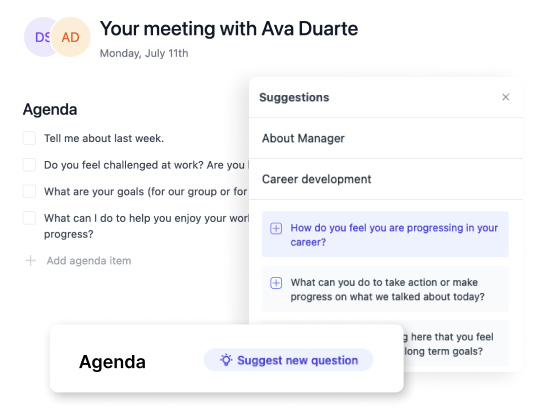 3
Preparation
Prepare ahead of meeting
We ask your direct report to prepare their meeting by answering the agenda questions. When they submit you'll receive their answers. This ensures that you are prepared when the meeting starts.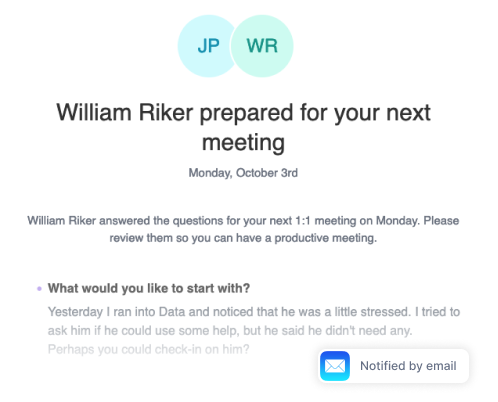 4
Meeting
Run your meeting
All set, go! Start the meeting and walk through the agenda, discuss the responses, ask follow-up questions, check-off handled questions, and collect meeting notes.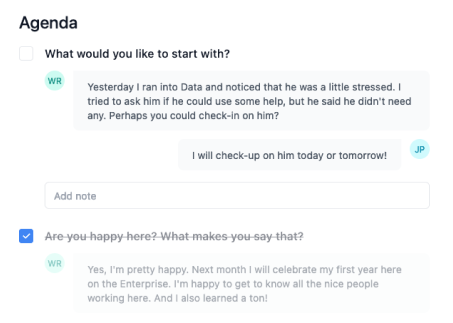 You're in good company
Here's what others are saying

Strateamic is much more focused on getting 1:1's done effectively, providing actual value between the two and drive towards more meaningful conversations. It feels much more natural and less "HR-Satisfiy" than everything I've worked with before.

Strateamic has helped our start-up to truly connect with our employees. By giving helpful tips on questions to ask and bringing a schedule to our sometimes chaotic day to day life. Strateamic enables me to focus on the person, rather than the conversation.